---
Hook Lear / Bait Arm - 10 inches with 2x Float
Make your own fishing rigs
Adjust float to raise your bait off the bottom a little or a lot.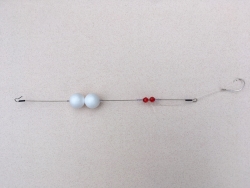 Regular Price $3.49 Each
---
Adjust the distance between bait arms based upon
the length of the leaders you're using for no tangle fishing.
Product Features
Wire Length: 10 Inches
Wire Material: Stainless
Wire Diameter: .032"
Adjustable Hook: Yes
Adjustable Float: Yes
Red Beads: 2
Hook Type: Circle
Hook Leader: 7"
Hook Size: 3/0
Leader Test: 40 lb
Leader: Twisted
---
---
---
---