---
All Fishing Rigs
Click product picture to view details, videos and price.
---
Arms adjust to match leader length and stop tangles.
---
Expands to fish and folds for streamline storage.
---
Use for Top, Middle & Bottom Fishing
---
Longer center leg to trigger a strike on the trailing bait.
---
Hooks adjust for optimal bait presentation.
---
Adjust the bead stroke to change the sound.
---
Add or change color beads and spinner blades
---
Because you asked for them
---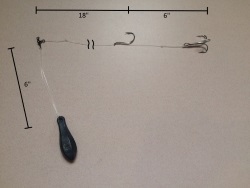 ---
4 Sizes, Non-rusting features, straightened leader maintains stiffness
---
Non-rusting features, straightened leader maintains stiffness
---
Straightened leader maintains stiffness
---
Use for toothy species or as a fish finder rig to keep hook off the bottom
---
---
---
Attaches to mainline in 10 seconds without tying a single knot
---
DIY - Spinner Add-ons
Attach and throw or insert and throw
---
Swivels, sleeves, split rings, stoppers and beads
---
Free Shipping on orders over $30
---
---