---
Our 15" High Low / Top Bottom Single Rig
Easy to adjust for zero tangles. Easy to link together and catch multiple fish. Easy to add a rattle using pennies. Easy to store in your tackle box when you're not fishing.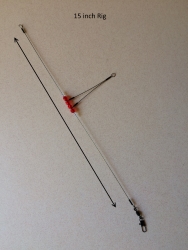 Rigged and Ready Price $2.99
---
Product Features:
Total Length: 15"
Wire: Stainless Steel
Wire Diameter: .032"
Design: Open
Beads: 4 Red
Bait Arm Length: 4"
Bait Arms: Adjustable
Bait Arms: Removable
Bottom Swivel: 50 Lb Test
Bottom Swivel: Removable
Surf Fishing: Yes
Pier Fishing: Yes
Boat Fishing: Yes
Premade Rig: Yes
---
---
---